Myth #1: The VA Loan Limit is $417,000, so We Can't Afford a Home in Hawaii
With the median price of a single family home on Oahu at over $680,000 many people think they can't afford a home, but the VA loan limit on Oahu is actually $720,050 with zero down payment. Looking for a more expensive home? Put just 25% of the difference down. That means you can buy a $920,050 home with a VA Loan for only a $50,000 down payment, with a lower interest rate than a conventional loan.
The BAH rates for active duty military members favor buying a home instead of renting or giving up your BAH to live on base. At least when you buy, you're paying yourself instead of a landlord, and you're building equity in a home as the prices increase. Too many military families move around for years just paying rent. At retirement that's 20 years of house payments wasted and a lost opportunity for your home to gain value.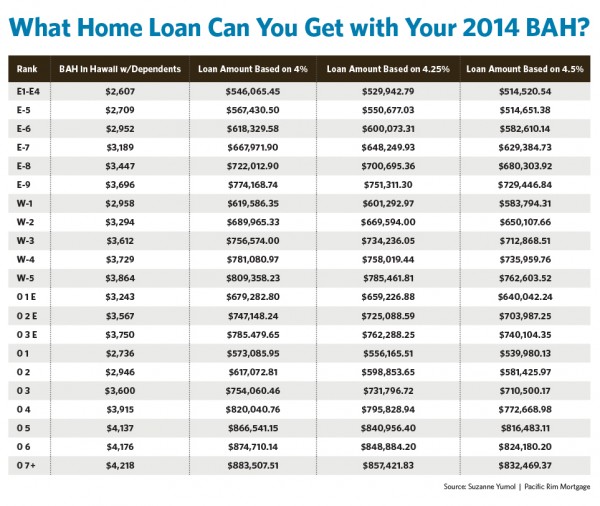 Myth #2: VA Loan Benefits Can Only be Used Once
Not true! Your VA loan entitlement is restored when the previous loan is paid off. Dual military families can actually open two loans. If you own a home at a previous duty location and one spouse used the VA entitlement to buy, this time the other spouse can use their entitlement. It doesn't matter if both names are on the mortgage.
Active duty, Reserve duty, prior service members, and military retirees are all eligible for VA loans.
Myth #3: All VA Lenders are the Same
A mortgage lender can offer all kinds of loans, including those backed by the VA. VA loans are just another kind of product. Look for a lender that has a lot of experience selling that kind of loan, so they can navigate the process of getting the VA's approval as smoothly as possible.
Make sure you:
Ask how many VA loans the lender has closed in the past month.
Look for a lender that considers VA loans a specialty, not just something they do occasionally.
Ask how long it takes them to close a VA loan and who their approval contacts are at the VA.
Is the lender willing to hand-carry the papers to the VA, or does the application just get "submitted" by email? The closer their ties are to the people handling the paper, the more streamlined the process will be.
Myth #4: Foreclosures/Short Sales and VA Loans Don't Mix
A short sale or foreclosed property is fair game for VA loan financing. As long as the home meets VA appraisal standards for value and minimum property requirements, it should "sale" through to closing.
Myth #5: VA Appraisers are Picky
The appraisal process takes the same amount of time for a VA loan as a conventional, and while the VA appraisers have to make sure the VA is backing good loans, their job is to promote the interests of the service member. A good loan is one that, if the house had to be sold tomorrow, the VA would not lose money, and the service member could walk away without financial damage.